Welcome!
Lynne is a freelance musician based in Edinburgh. She plays flute regularly in a number of orchestras / ensembles and is available for private tuition as well as solo, ensemble and private functions. She specialises in playing and teaching the concert flute, provides piano tuition and has experience on piccolo and baroque flute. For more information, please feel free to get in touch...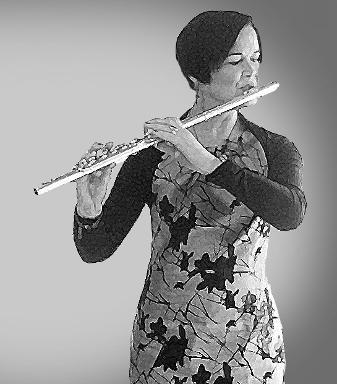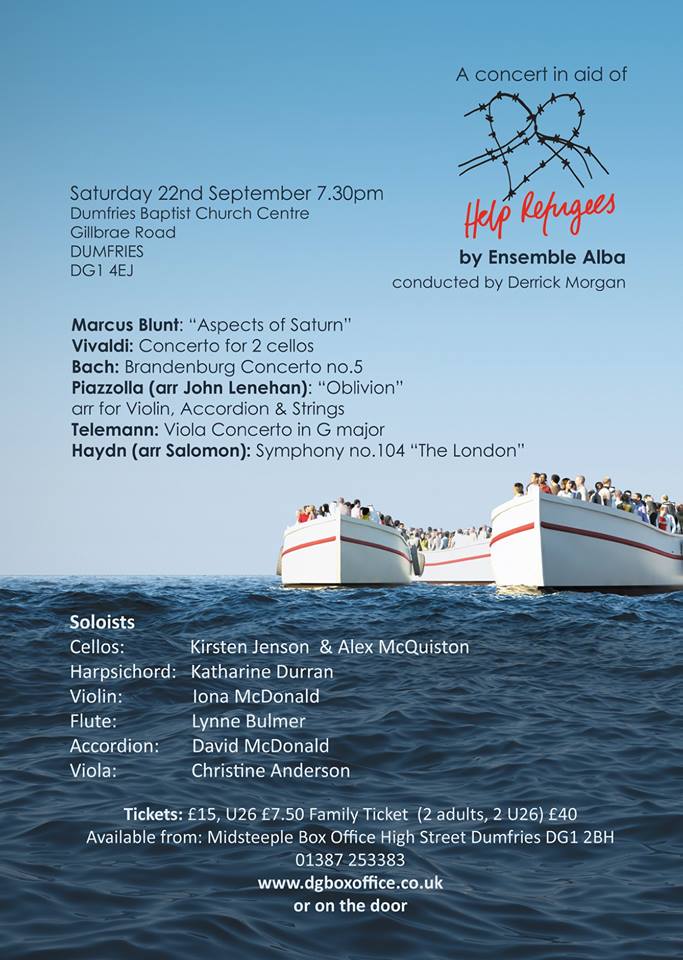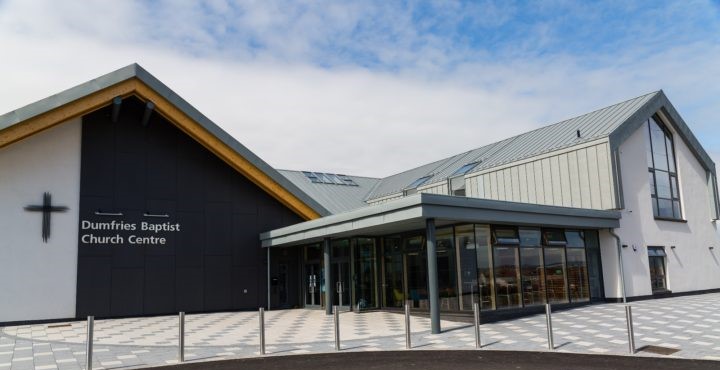 Lynne will be a soloist with Ensemble Alba (conductor: Derrick Morgan, leader: Emma Donald) in a charity concert in aid of Help Refugees in Dumfries Baptist Church Centre, Gillbrae Road, Dumfries on Saturday 22nd September 2018 at 7.30pm.

Programme:

Marcus Blunt - 'Aspects of Saturn'
Vivaldi - Concerto for two cellos

J S Bach - Brandenburg Concerto no. 5 BWV 1050
INTERVAL
Piazzolla (arr. John Lenehan) - 'Oblivion' arr. for Violin, Accordion & Strings

Telemann - Viola Concerto in G major

Haydn (arr. Salomon for flute & strings) - Symphony no. 104 Hob. I:104 'The London'

--------------

Soloists:

Cellos: Kirsten Jenson & Alex McQuiston Harpsichord: Katharine Durran Violin: Iona McDonald Flute: Lynne Bulmer Accordion: David McDonald Viola: Christine Anderson

Tickets: £15/U26 £7.50/family £40 available here or phone Robert Thurlow - 01387 720824
Lynne will be performing with the Meadows Chamber Orchestra (conductor: Gordon Bragg, soloist: Fraser Kelman) in Inverleith St Serf's Church, Edinburgh on Saturday 29th September 2018 at 7.45pm.

Programme:
Schubert - Overture to Rosamunde Op. 26

Strauss - Oboe Concerto in D major
Sibelius - Scene with Cranes

Sibelius - Symphony no. 3 in C major Op. 52
Tickets: £14/£11/£5 & free for schoolchildren - available on the door and from the Queen's Hall box office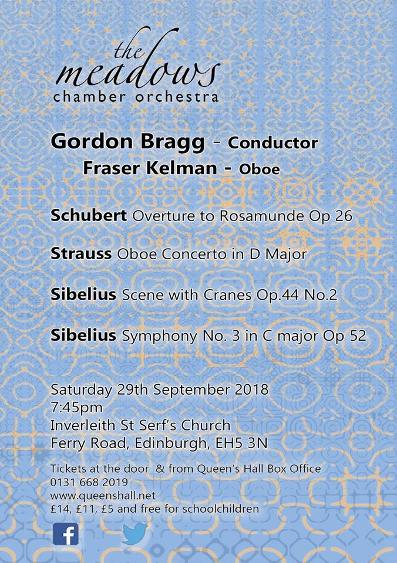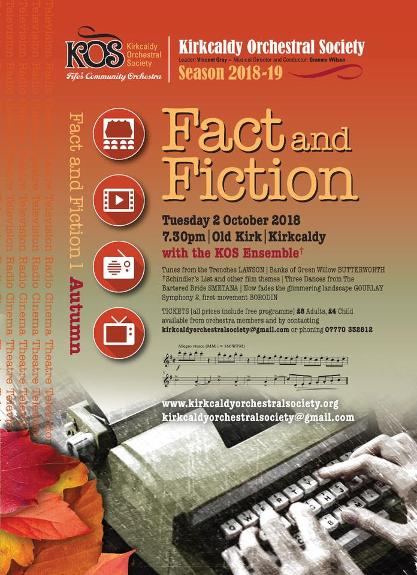 Lynne will be performing in 'Fact and Fiction: Autumn' with Kirkcaldy Orchestral Society (conductor: Graeme Wilson) in the Old Kirk, Kirkcaldy on Tuesday 2nd October 2018 at 7.30pm. Programme to include:

Lawson - Tunes from the Trenches
Butterworth - Banks of Green Willow

Schindler's List and other film themes
Smetana - Three Dances from The Bartered Bride
John Gourlay - Now Fades the Glimmering Landscape
Borodin - Symphony no. 2 (1st movement)

Lynne will be performing in 'Kaleidoscope' - a charity concert (with music for winds, strings & guitar) in Letham Village Hall, Fife on Sunday 21st October 2018 at 3pm.

Programme to include:

Louise Farrenc - Nonetto Op. 38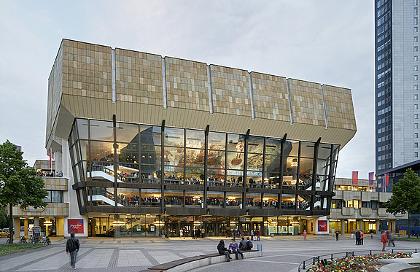 Lynne will be performing with Amicus Orchestra (conductor: Catherine Larsen-Maguire, soloist: Maya Iwabuchi, RSNO) in the Gewandhaus, Leipzig at the invitation of the Akademisches Orchester Leipzig, on Monday 12th November 2018 at 7.30pm.

Programme:

Peter Maxwell Davies - An Orkney Wedding with Sunrise

Bruch - Scottish Fantasy

Mendelssohn - Symphony no. 3 'Scottish'

* SOLD OUT *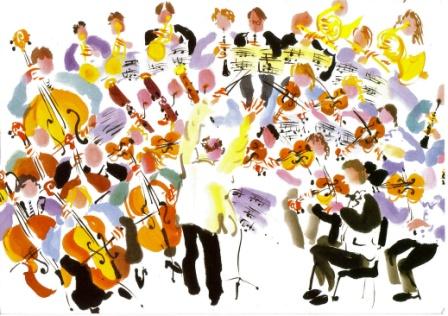 Lynne will be playing in two performances of 'Fact & Fiction: Winter' with Kirkcaldy Orchestral Society (conductor: Graeme Wilson) in the Old Kirk, Kirkcaldy on Sunday 16th December 2018 at 2pm and 4pm. Programme to include:-
Hess - Christmas Overture

John Gourlay - The Red Etin

Chase - Christmas Memories

Christmas Sequence and carol sing-along